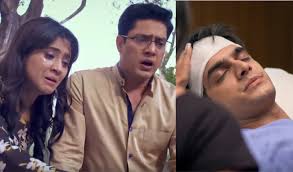 Yeh Rishta Kya Kehlata Hai: Naitik (Vishal Singh) against Naira for supporting Akshara's killer Kartik (Mohsin Khan)
The upcoming episode of Yeh Rishta Kya Kehlata Hai will show major drama where Naira is in extreme pain of loosing Akshara.
Naira is also in pain of loosing her love of life Kartik as he has been accused for Akshara's accident.
Swarna tries to make Naira understand that she needs to trust her love Kartik as he is saying that he hadn't killed Akshara.
Naira is not ready to believe it and goes at the accident spot recalls what all happened that day, Naira gets some clues of Kartik's innocence.
Naira against Naitik for Kartik
Naira thus decides to support Kartik and prove his innocence thus joins hand with Swarna and Manish.
Naitik gets angry knowing about it, Naitik bursts out at Naira for supporting her mother's murderer.
Stay tuned for more exciting updates of the upcoming episodes.