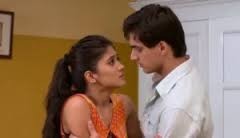 Yeh Rishta Kya Kehlata Hai: Naira-Swarna happy as Kartik(Mohsin Khan) comes out from jail
In the upcoming episode, Naira gets to know that Kartik is innocent.
Kartik's friends tells Naira everything, then she gets to know that Kartik was right and he has not done anything.
Naira recalls everything and she feels very guilty when she thinks that she did not trusted Kartik.
Naira takes Swarna's help for proving Kartik innocent in the court.
Naira proves Kartik innocent in court
Finally she reaches the court and she proves the Kartik is not the real culprit.
Kartik comes out from jail, Manish and Swarna gets really happy.
Naira goes to mosque for getting her love Kartik back just then she sees Kartik and apologizes to him.
Kartik forgives Naira for her mistakes.
Stay tuned for the upcoming twist.