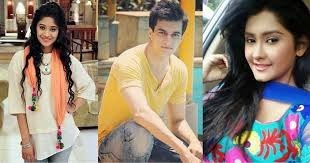 Yeh Rishta Kya Kehlata Hai: Naira (Shivangi Joshi) makes Kartik (Mohsin Khan) married to Gayu for saving Kartik from kundali dosh
The upcoming episodes of Yeh Rishta Kya Kehlata Hai will witness alot of twist and turns.
Kartik's Daadi asks pandit ji to make Naira's kundle because she wants to check if there is any dosh in her kundli or not.
Pandit ji makes Naira's kundli and tells her that she has dosh in her kundli that is not good for Kartik.
Just then Kartik comes, he gets injured and Daadi gets tensed.
Kartik unaware of Naira's decision to make him married to Gayu
Daadi thinks that if she will refuse for the marriage then she will lose Kartik forever and if she agrees then Kartik's life will be in danger.
Daadi decides to talk to Naira about this, she goes and tells Naira everything.
Daadi asks her not to put Kartik's life in danger and do something about it.
Naira thinks over it and when the marriage day comes then she makes Gayu marrried to Kartik for saving him from kundli dosh and for Daadi's happiness.
Stay tuned for the upcoming twist.