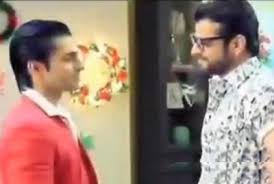 Yeh Hai Mohabbatein: Raman (Karan Patel) apologize to Sohail for daughter Ruhi (Aditi Bhatia)
The upcoming episode of Yeh Hai Mohabbatein will show that Ruhi is very upset over her MMS scandal.
Raman, Ishita and Shagun are trying to trap real culprit and Blackmailer to stop all this and find his truth.
Raman, Ishita thus throws a Christmas party and knows that the Blackmailer will come to threaten Ruhi.
Raman, Ishita and Abhishek keeps eye over everyone while Sohail and Ruhi dances closely.
Raman apologize to Sohail
Sohail wants to make Ruhi happy after what all is happening, Raman comes there and gets irked.
Raman doesn't react much as he don't want ro trouble Ruhi more and apologize to Sohail.
Stay tuned for more exciting updates of the upcoming episodes.