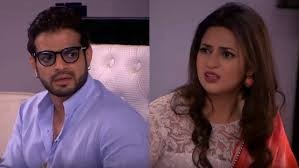 Yeh Hai Mohabbatein: Sohail's attempt for bringing smile on Ruhi's (Aditi Bhatia) face
The upcoming episodes of Yeh Hai Mohabbatein will show alot of twist and turns.
Ruhi has got really worried as blackmailer is calling her again and again through private number.
Then all the members of the family keeps christmas party for catching the blackmailer but their plan fails.
As they are not able to catch the blackmailer and Ruhi is very tensed.
Ishita-Raman fails to trap the blackmailer
Sohail sees that Ruhi is very tensed and worried so he thinks to bring smile on her face.
Sohail then do romantic dance with Ruhi so that he can bring smile on her face.
Just then Raman and Ishita comes there and they got shocked seeing their dance.
Raman does not get angry and Ruhi gets happy seeing this.
Stay tuned for the upcoming twist.