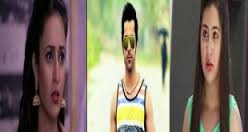 Yeh Hai Mohabbatein: Raman-Ishita tensed over Ruhi's (Aditi Bhatia) increasing closeness with Sohail (Gaurav Wadhwa)
The upcoming episode of Yeh Hai Mohabbatein will show that Sohail has returned in Bhalla family.
Sohail has helped Raman and Ishita a lot and has won their trust, Ruhi is also impressed by Sohail's helpful nature.
Ruhi and Sohail turns good friends with each other, Ruhi is ready to help Sohail by doing concert of him as Ruhaan.
Raman and Ishita are not too happy with this increasing closeness as Raman finds some truth about Sohail.
Sohail's hidden intentions against Ruhi
Sohail although sorts all misunderstandings and says why he hide his real identity, Ruhi is very much impressed by Sohail.
Raman and Ishita gets insecure over this issue, and doubt's over Sohail's intentions.
Stay tuned for more exciting updates of the upcoming episodes.