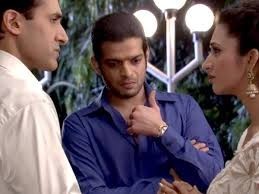 Yeh Hai Mohabbatein: Mani divorce Shagun but blames Ishita(Divyanka Tripathi)-Raman(Karan Patel) for his divorce
The upcoming episodes of Yeh Hai Mohabbatein will witness alot of twist and turns.
Mani has finally decided to divorce Shagun because he cannot live with a woman who is not loyal towards him.
Shagun gets shocked, she does not wants that Mani divorce him so then she plans romantic date for him.
But all her efforts go in vain as Mani has decided that he will divorce her.
Shagun's efforts in vain for stopping Mani from giving divorce
Mani blames Ishita and Raman for his divorce because they hide things from him which they should not have done.
On the other hand Ishita and Raman are trying their best to catch the blackmailer.
It will be interesting to see that what will Ishita and Raman do now.
Stay tuned for the upcoming twist.