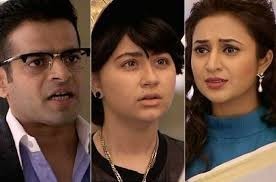 Yeh Hai Mohabbatein: Ruhi (Aditi Bhatia) bursts out in anger on Raman (Karan Patel) for beating Sohail
In the upcoming episode, Raman and Romi beats Sohail very badly and he gets injured.
Then Romi and Aditya takes Sohail to hospital as he has got really injured.
Ruhi starts crying and he gets shattered seeing Sohail's condition.
Ruhi gets angry with Raman for beating Sohail without even knowing that he has done anything or not.
Ruhi and Raman both indulges in a heated argument.
Toshi consoles Ruhi as she cries seeing Sohail's condition
Toshi try to console Ruhi as she is crying and she asks her to relax as everything will get fine.
But Ruhi does not calms down and continues to shout on Raman.
Raman then gets angry and raises hand on Ruhi but Ishita stops Raman and handles the situation.
Stay tuned for the upcoming twist.