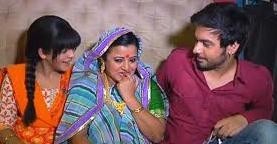 Thapki Pyaar Ki: Thapki (Jigyasa Singh) takes bhoot avatar for exposing Koshi before everyone
In the upcomin episode, Thapki aka Vani wants that everyone gets to know Koshi's truth.
Thapki gets to know that Chacha ji is ready to tell everything about Koshi so then she gets happy.
But Thapki wants Koshi to accept herself what she did with Thapki.
So then she makes ghostly plan to scare Koshi, she thinks that if she wil do so then Koshi will gets scared and tell the whole truth.
Koshi gets scared seeing Thapki's ghost
Koshi goes to temple but there she gets shocked seeing Thapki, she thinks that it is Thapki's ghost and gets scared.
Just then Vani comes there and asks Koshi to calm down as Thapki cannot come because she has died few years back.
Stay tuned for the upcoming twist.