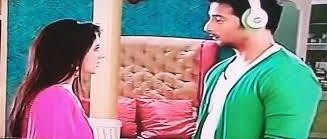 Thapki Pyaar Ki: Kabir determines to ruin Thapki(Jigyasa Singh)-Bihaan's(Manish Goplani) happiness
The upcoming episodes of Thapki Pyaar Ki wil witness high voltage drama.
Thapki thinks that she will tell everything to Bihaan and then she will go from the house.
Because if she will not go then Bihaan will not marry Shankar and she cannot let this happen.
Thapki tellls Bihaan everything and he apolgizes to him for all his mistakes.
Shankar makes kidnapping plan against Thapki
Thapki and Bihaan gets united but just then Kabir comes there and asks Thapki to stay away from Bihaan as she is his wife now.
On the other hand Shankar is also planning to kidnap Thapki because she does not wants Thapki and Bihaan to get united.
Shankar and Kabir both will together attempt to separate them and ruin their happiness.
Stay tuned for the upcoming twist.