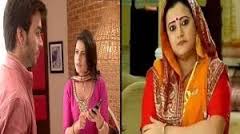 Thapki Pyar Ki: Thapki's (Jigyasa Singh) ghost drama plan revealed before Koshi (Smita Singh) Devi
The upcoming episode of Thapki Pyar Ki will show major drama where Thapki is after Koshi.
Naman has decides to confess his truth of what all he and Koshi did in Pandey Niwas and others.
While Thapki wants Koshi to confess her truth bu herself, but Koshi is not that easy to catch.
Koshi drugs Naman which leads him into comma and does all to keep her truth hidden from society.
Koshi finds Vani aka Thapki's truth
Thapki is irked seeing her plan of exposing Koshi getting failed and plays ghost trick over her.
Koshi soon gets to know about Thapki's ghost drama trick and fails her all plans.
Stay tuned for more exciting updates of the upcoming episodes.