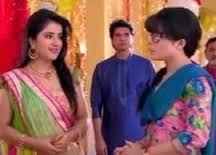 Thapki Pyar Ki: Shankar's evil attack over Vasundhara (Jaya Bhattacharrya) hiding truth from Bihaan and Thapki (Jigyasa Singh)
The upcoming episode of Thapki Pyar Ki will show high voltage action drama where Shankar crosses all limits.
Vasundhara has found about Shankar's evil trap where she created misunderstandings amid Thapki and Bihaan.
Vasundhara finds that it's Shankar who has hidden Thapki's letter from Bihaan and also attempts to kill her.
Shankar gets nervous as her truth is soon going to get revealed which she can't afford as she loves Bihaan.
Shankar's evil attack over Vasundhara
Shankar plans killer attack over Vasundhara this injuring her, doctor declares Vasundhara critical.
Bihaan and Thapki are tensed for Vasundhara while Shankar is relieved by seeing her state.
Stay tuned for more exciting updates of the upcoming episodes.