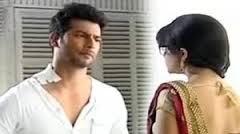 Thapki Pyar Ki: Kabir (Sehban Azim) goes against Thapki taking revenge from Bihaan (Manish Goplani)
The upcoming episode of Thapki Pyar Ki will show major drama where Kabir traps Thapki in marriage trap.
Kabir now shows his true colors taking revenge from Bihaan, declares that Thapki is his wife officially.
Thapki is shocked seeing Kabir's this side and request him to not do this with her.
Kabir wants to take his sister's revenge from Bihaan and can't help his emotions against Bihaan.
Thapki stuck in Kabir's trap
Thapki is now stuck in her own trap of marrying Kabir but doesn't know Kabir's real intentions.
Let's wait and watch what will Thapki do now to safeguard Bihaan from Kabir's intentions.
Stay tuned for more exciting updates of the upcoming episodes.