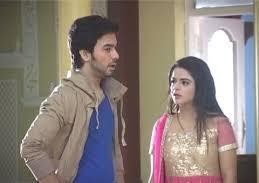 Thapki Pyaar Ki: Vasundhara worried as Thapki (Jigyasa Singh) goes missing from function in Pandey Niwas
The upcoming episode of Thapki Pyaar Ki will witness alot of twist and turns.
All the members of the family are very happy as there is function in Pandey niwas.
All the members of Pandey family gets ready for the function.
Vasundhara gets Thapki's letter that she actually wrote for Bihaan.
Thapki shouts for help as goon kidnaps her
On the other hand Shankar has kidnapped Thapki from Pandey niwas because Thapki has come to know that Bihaan did not get her letter.
Shankar does not wants her to meet Bihaan and sort all the issues amid them.
So she kidnaps her and goons takes her to abandoned place, Thapki gets worried and shouts for help.
It will be interesting to see that Bihaan is able to save Thapki or not.
Stay tuned for the upcoming twist.