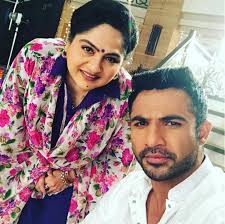 Saath Nibhana Saathiya: Urvashi seeks Kokila's (Rupal Patel) apology for Jaggi (Mohammad Nazim)
The upcoming episode of Saath Nibhana Saathiya will show high voltage drama where Jaggi's truth gets revealed before Gopi and Kokila.
Police informs that it's Jaggi's truck which had did Ahem's accident and thus Ahem got killed.
Gopi and Kokila gets shattered hearing this truth, Kokila looses her control and gets angry.
Gopi couldn't understand what to do, while Kokila files complaint against Jaggi and gets him arrested.
Urvashi and Jaggi's helplessness
Jaggi and Urvashi seeks Kokila's forgiveness, Urvashi begs Gopi and Kokila to not let police take Jaggi away.
Kokila refuses to listen to Urvashi and Jaggi and wants to take Ahem's death revenge from him.
Stay tuned for more exciting updates of the upcoming episodes.