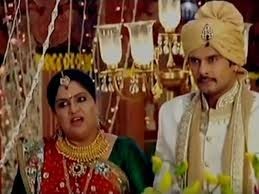 Saath Nibhana Saathiya: Gaura uses Chanda for separating love birds Meera(Tanya Sharma) and Dharam(Amar Upadhyay)
The upcoming episode of Saath Nibhana Saathiya will witness alot of twist and turns.
Gaura wanted to separate Meera and Dharam from each other.
Gaura decides to use Chanda for separating Meera and Dharam.
Gaura talks to Chanda and puts one thing in her mind that if she wants to enjoy luxurious life then she must get married to Dharam using Meera's babies.
Meera shattered post getting Chanda-Dharam married
Else she will have to go back to the place where she has come and she will have to lead a life of poverty.
So Chanda thinks that she is right, then she forces Meera to get her married with Dharam.
Meera had to do so because she cannot see her babies in pain.
Gaura gets really happy as her plan got successful.
Stay tuned for the upcoming twist.