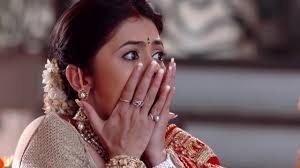 Saath Nibhana Saathiya: Gopi-Kokila decides to confront Meera-Dharam post knowing about Dharam-Chanda's marriage
The upcoming episode of Saath Nibhana Saathiya will witness alot of twist and turns.
Meera makes Chanda and Dharam married because Chanda blackmailed her for doing so.
Meera had no other option, she could not see her babies crying in hunger so she had to make them married.
Gaura and Chanda gets really happy after Dharam fills sindoor in Chanda's hairline.
Vidya tells Gopi about Chanda-Dharam marriage
Later Vidya tells about all this to Gopi and Kokila, they gets shocked.
They decides to come their house and talk to Meera-Dharam about this as how can Dharam marry Chanda.
It will be interesting to see that what will happen when Gopi and Kokila will see Gaura in the house.
Stay tuned for the upcoming twist.