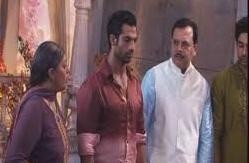 Saath Nibhana Saathiya: Parag goes against Kokila supporting Jaggi(Mohammad Nazim)-Urvashi
The upcoming episode of Saath Nibhana Saathiya will bring alot of twists and turns.
Urvashi does not wants Jaggi to get arrested and go jail.
So she requests Kokila to take her complaint back against Jaggi.
But Kokila refuses to do as she will take revenge from Jaggi an Urvashi for Ahem's death.
Kokila shocked as Parag supports Jaggi
Urvashi begs before Parag and asks him not to let his son go to jail and save him.
Parag also feels that maybe Jaggi is innocent as nothing has been yet proved.
So he supports Urvashi and Jaggi against Kokila.
Parag will try to save Jaggi from going to jail.
It will be interesting to see that what will Kokila do now.
Stay tuned for the upcoming twist.