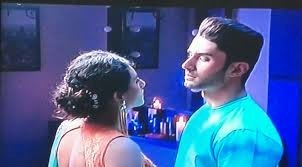 Pardes Mein Hai Mera Dil: Veer-Sanjana (Additi Gupta) insults Raghav(Arjun Bijlani)-Naina(Drashti Dhami) in the party
The upcoming episodes of Pardes Mein Hai Mera Dil will witness alot of twist and turns.
All the members of the family keeps a lavish party at home and invites guest in the party.
Then Sudha announces Veer and Sanjana's marriage infront of the all the guests.
Naina gets happy for Sanjana as she is getting married with Veer
Veer is not happy with this marriage but he is forced to marry Sanjana as she is pregnant with his baby.
Veer and Sanjana insults Raghav-Naina before everyone but Naina remain unaffected.
Naina is happy thinking that Sanjana is getting married and now her baby will get father's name.
Stay tuned for the upcoming twist.