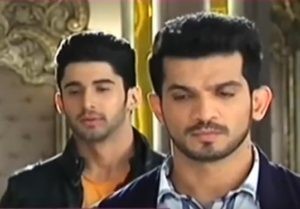 Pardes Mein Hai Mera Dil: Raghav (Arjun Bijlani) forgives Veer for his mistakes
The upcoming episodes of Pardes Mein Hai Mera Dil will witness alot of twist and turns.
Raghav and Naina are busy in the marriage preparations of Sanjana and Veer.
But while doing the marriage preparations Raghav gets unwell.
So Naina gives medicine to him but he instead of getting well, he get drunk.
Raghav unaware of Veer's hidden intentions
Naina gets shocked and when he checks the bottle of medicine then he gets to know that the bottle was filled with alcohol.
Later Veer apologizes Raghav after feeling guilty for his mistakes.
Raghav gets shocked but then his heart melt and he forgives Veer.
Veer has apologized Raghav with some hidden intentions and Raghav is unaware of that.
Stay tuned for the upcoming twist.