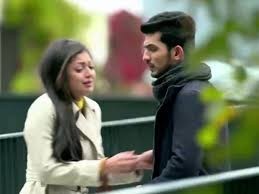 Pardes Mein Hai Mera Dil: Raghav (Arjun Bijlani) saves Naina(Drashti Dhami) from getting injured
The upcoming episodes of Pardes Mein Hai Mera Dil will witness alot of twist and turns.
Naina goes leaving Mehra house, she does not tells anyone anything.
Police stops Naina from going further as storm has come and if she goes further then her life can be in danger.
But Naina does not wants to hear anything and she goes.
Raghav forcefully takes Naina home
Raghav gets worried for Naina and he comes out of the house searching for Naina.
Raghav rushes towards Naina to save her from board.
Naina asks Raghav to leave her and let her go but Raghav does not hears anything and forcefully take her home.
Stay tuned for the upcoming twist.