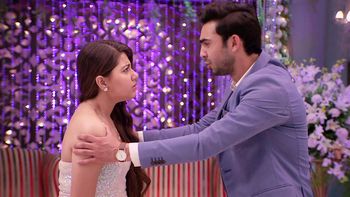 In Star Plus Show Yeh Hai Mohabbatein Ruhi gets Sohail (Gaurav Wadhwa) bailed, Raman furious at Ruhi (Aditi Bhatia)
The forthcoming chapter of Star Plus show Yeh Hai Mohabbatein will show high voltage drama where Abhishek arrests Sohail.
Abhishek & Raman gets clues against Sohail being Ruhi's MMS man and Blackmailer.
Raman Bhalla gets furious at Sohail for betraying him and Ruhi but Abhishek stops Raman and arrests Sohail.
Ruhi is not ready to believe that Sohail can do this with her and is mad in Sohail's love.
Ruhi and Raman's argument for Sohail
Ruhi goes against Raman and accuses him for trapping Sohail in fake case which hurts Raman.
Ruhi bails out Sohail by going against Raman, Ishita and her family.
Keep Reading For More Updates Of Star Plus ShowYeh Hai Mohabbtein