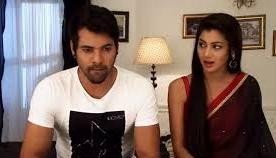 Kumkum Bhagya: Abhi (Shabbir Ahluwalia) throws Aliya out from house for spoiling Pragya's(Sriti Jha) image
In the upcoming episode, Abhi furious when he gets to know that Aliya bribed the doctor for spoiling Pragya's image.
Abhi accuses Aliya, he says he knew that she did not like Pragya but he had no idea that she can do anything like this being a girl.
Abhi says that he is ashamed of her and he is not able to believe that his own sister can do anything like this.
Daadi scolds Aliya for trying to spoil Pragya's image
Daadi scolds Aliya for doing all this against Pragya, Sarla gets happy as Abhi came to know about Aliya.
Abhi then finally decides to throw Aliya out from the house so that she realizes her mistake.
Tanu gets shocked, she try to stop Abhi but he is not ready to hear anything.
Stay tuned for the upcoming twist.