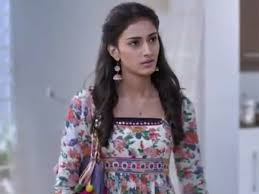 Kuch Rang Pyar Ke Aise Bhi: Sonakshi (Erica Fernandes) against Ria (Ankita Bahuguna) and Ayaan's alliance, doubt's over Ayaan's intentions
The upcoming episode of Kuch Rang Pyar Ke Aise Bhi will show high voltage drama in Dixit house where Sonakshi doubt's over Ayaan.
Ayaan creates drama and his family gets upset with Sonakshi's accusation over Ayaan and leaves in anger.
Ishwari, Radha Rani gets angry over Sonakshi for putting accusations over Ayaan, Dev supports Sonakshi against Ishwari.
Dev says that everything gets sorted this is better then what all happened, Sonakshi is still not convinced with Ayaan's answer.
Sonakshi against Ayaan's evil intentions
Sonakshi knows that Ayaan is hiding some truth from her, Sonakshi thus vows to find truth to save Ria.
Sonakshi will soon find Ayaan's real intentions behind marrying Ria and then plans to expose him before family.
Stay tuned for more exciting updates of the upcoming episodes.