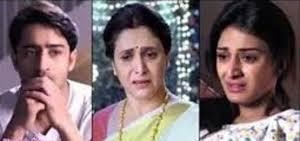 Kuch Rang Pyaar Ke Aise Bhi: Sonakshi(Erica Fernandes) confronts Ishwari and exposes Dev's(Shaheer Sheikh) lie about pregnancy
The upcoming episodes of Kuch Rang Pyaar Ke Aise Bhi will witness alot of twist and turns.
Sonakshi gets shattered when she comes to know that she is not pregnant and Dev lied from her about pregnancy.
She did not expected that Dev will break her trust like this.
She decides to tell this about her as she should also know what the truth is.
Ishwari goes in a state of shock post knowing the truth
Sonakshi goes and tells Ishwari everything, Ishwari goes in a state of shock.
Ishwari has so many expectations regarding the baby but the truth break all her expectations.
Ishwari gets angry and accuses Dev for doing all this.
Dev gets shattered as because of him Sonakshi and Ishwari have got very hurt.
Stay tuned for the upcoming twist.