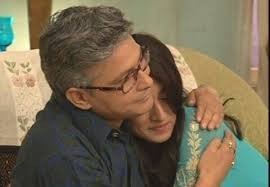 Kuch Rang Pyaar Ke Aise Bhi: Bijoy furious as Dev (Shaheer Sheikh) hurts Sonakshi (Erica Fernandes) lying about her pregnancy
The upcoming episodes of Kuch Rang Pyaar Ke Aise Bhi will witness high voltage drama.
Bijoy and Asha comes to know that Sona is not pregnant and Dev lied about her pregnancy.
They gets shocked when they come to know that Dev tried to convert Sona's fake pregnancy into real pregnancy.
Bijoy bursts out in anger and reaches Dixit house, Sona and everyone gets shocked seeing him.
Bijoy takes Sonakshi from Dixit house
Bijoy accuses Dev for lying about Sona's pregnancy and hurting her.
Dev try to make Bijoy understand that he did all this because he did not wanted to see Sona upset or tears in her eyes.
Bijoy does not wants to hear anything and scolds him then he takes Sona with him, Dev gets shocked.
It will be interesting to see that what will Dev do now.
Stay tuned for the upcoming twist.