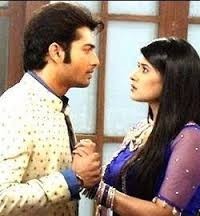 Kasam Tere Pyaar Ki: Rishi (Sharad Malhotra) happy as Tanuja(Kratika Sengar) forgives him for his mistakes
The upcoming episode of Kasam Tere Pyaar Ki will witness alot of twist and turns.
Rishi gets to know that Tanuja is not pregnant infact Smiley is pregnant and Tanuja was trying to hide her pregnancy.
Rishi feels very guilty and he goes to Tanuja, he apologizes her for his mistakes.
Rishi gets teary eye while apologizing Tanuja for his mistakes
Rishi is very guilty, tears come in his eyes and he does not understand that how should he apologize for his mistakes.
Then Tanuja consoles her, she hugs her and says that everything is fine and she has forgiven him for all his mistakes.
All the issues amid Rishi and Tanuja has got sorted so now it will be interesting to see that what will Malika do now.
Stay tuned for the upcoming twist.