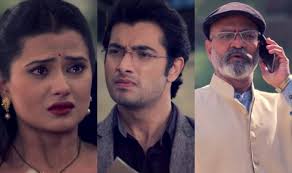 Kasam Tere Pyaar Ki: Rishi (Ssharad Malhotra) hides Tanuja's (Kratika Sengar) betrayal from Raj, accepts Tanuja's baby
The upcoming episode of Kasam Tere Pyaar Ki will show that Raj finds about Tanuja's pregnancy.
Raj gets happy thinking that Tanuja is pregnant with Rishi's child as he is unaware about truth that Tanuja and Rishi are taking divorce.
Rishi is irked with Tanuja's betrayal and wants to take divorce from her, but Raj's presence spoils all.
Rishi and Tanuja's divorce case
Rishi knows that Raj loves Tanuja as his daughter and trusts her more than himself and will get hurt knowing truth.
Rishi thus hides Tanuja's pregnancy truth from Raj and accepts Tanuja's baby as his for Raj's happiness.
Stay tuned for more exciting updates of the upcoming episodes.