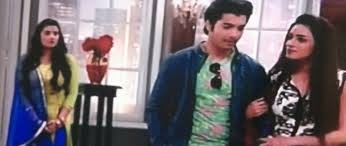 Kasam Tere Pyaar Ki: Tanuja (Kratika Sengar) determines to bring Malika-Shekhar's affair truth before Rishi (Sharad Malhotra)
The upcoming episodes of Kasam Tere Pyaar Ki will witness alot of twist and turns.
Tanuja gets to know about Malika and Shekhar's affair and she gets shocked.
Tanuja thinks that she will ahve to tell about this to everyone so that everyone comes to know about her reality.
But Rishi is in hospital and everyone is worried for him so she decides that she will wait for him to come home.
Tanuja will try to find proof to prove that Malika is having affair with Shekhar
Then she will tell Rishi everything and till then she will try to get proof so that she can prove that what she is saying about Malika is not wrong.
It will be interesting to see that what will Rishi do after knowing about Malika's evilness.
Stay tuned for the upcoming twist.