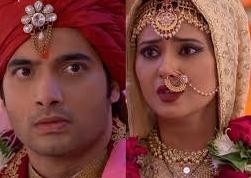 Kasam Tere Pyaar Ki: Rishi's(Sharad Malhotra) rude behaviour brings tears in Tanuja's (Kratika Sengar) eyes
In the upcoming episode, Tanuja keeps karwachauth fast for Rishi.
Tanuja takes pooja plate and goes to Rishi so that she can open her fast.
But Rishi throws her pooja plate in anger and Tanuja gets shattered seeing all this.
Later Rishi says to that his heart says that she can never bitray him and he should not give her divorce.
Rishi try to make Tanuja understand that she will be happy after getting divorce
Rishi says that when he thinks from his mind then he thinks that he should give divorce to her.
This time Rishi will not think from his heart and he will give divorce to Tanuja.
Rishi try to make Tanuja understand that even she will stay happpy after getting divorce.
Stay tuned for the upcoming twist.