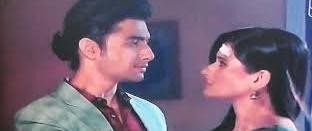 Kasam Tere Pyaar Ki: Rishi shocked as Tanuja suffer miscarriage post falling from stairs
In the upcoming episode, Malika gets angry when Rishi changes his decision and does not throws Tanuja out from house.
Malika makes evil plan against Tanuja and she keeps marbel on the stairs so that when she comes down then she slips and falls.
Tanuja was coming down from stairs and she falls down, Rishi gets shocked and rushes towards her.
Malika tensed as Tanuja blames her for miscarriage
Rishi takes Tanuja to hospital and there he gets to know that Tanuja has suffered miscarriage.
Tanuja knows that Malika has done all this so then she blames Malika for her miscarriage and Malika gets shocked.
Rishi also gets shocked when Tanuja blames Malika for making her fall from stairs.
Stay tuned for the upcoming twist.