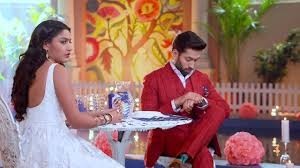 Ishqbaaz: Tia makes evil plan for separating Anika(Surbhi Chandna)-Shivaye (Nakuul Mehta)
In the upcoming episode, Tia thinks that now that she has returned back in Shivaye's life.
Then she will get everything, she gets happy and thinks that she played dirty games and no one was able to catch her.
Tia thinks that now she will becomes Shivaye's wife and she will get the money and property.
Shivaye also decided to divorce Anika and when he goes to Anika and asks her to sign the divorce papers.
Anika decides to expose Tia
Then Anika refuses to do so as she wants to take revenge from Shivaye for forcefully marying her.
Anika also knows about Tia's evil intentions so she thinks that first she will expose her then she will give divorce to Shivaye.
Tia gets irked seeing this and decides that she will break Shivaye-Anika's marriage at any cost.
Stay tuned for the upcoming twist.