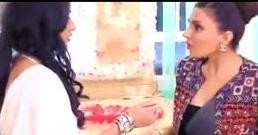 Ishqbaaz: Shivaye(Nakuul Mehta) wakes up Anika (Surbhi Chandna) for muh dikhayi ritual post marriage
In the upcoming episode, Shivaye and Anika spends their first night together.
Shivaye and Anika have got married and they are in one room but still they are away from each other.
Anika sits beside the pool and she keeps thinking about whatever has happened till now.
Then she finally goes to sleep sitting beside the pool and then Shivaye makes her wear blanket so that she does not feels cold.
Anika gets ready for muh dikhayi ritual
Then Shivaye comes in the morning to wake up Anika for the muh dikhayi ritual.
But he does not understands that how should he wake her up, first he calls her name then he keeps alarm near her ear.
Finally she wake up and gets ready for the muh dikhayi ritual.
Stay tuned for the upcoming twist.