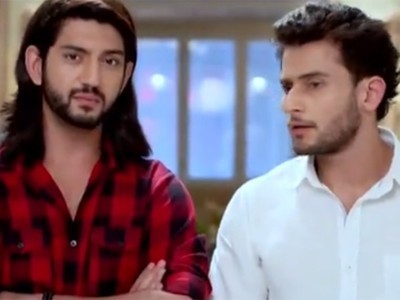 Ishqbaaz: Shivaye (Nakuul Mehta) supports Om going against Tej Oberoi
The upcoming episodes of Ishqbaaz will witness high voltage drama as Om decides to leave Oberoi mansion.
Tej is business minded and he thinks mostly with the point of view of a business man.
Tej decides to fix Om's marriage alliance with the daughter of a business man for a business deal.
When Om comes to know about this then he gets really angry because he does not likes to treat relations as deals.
So then he gets really angry and he decides to leave Oberoi mansion, Jhanvi and Rudra gets shocked.
Tej gets angry as Shivaye support Om
They try to stop Om but they are not able to do so just then Shivaye comes there.
Shivaye supports Om and he goes against Tej, he says that if he does not wants to do arrange marriage then Tej should not have fixed his alliance just for a deal.
Tej gets angry and makes Shivaye realize that even he did the same thing for a business deal and now he is criticizing his decision, Shivaye gets shocked.
Stay tuned for the upcoming twist.