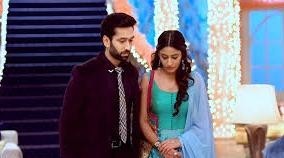 Ishqbaaz: Daadi-Shivaye happy as Anika (Surbhi Chandna) makes paneer butter masala completing the first rasoi ritual
The upcoming episodes of Ishqbaaz will witness alot of twist and turns.
Daadi returns to Oberoi mansion with Om and Rudra.
All the members of the Oberoi family get really happy to see her back.
Daadi asks Anika to cook something for completing her first rasoi ritual.
Anika happy as Shivaye appreciates her paneer butter masala
So then she makes paneer butter masala for everyone, then she calls everyone to have the food.
Everyone sits for having food, Daadi asks Shivaye to taste paneer butter masala as Anika has made it.
Shivaye tastes it and he gets to know that the food has got burnt.
So he stops everyone from eating it in order to save Anika from getting insult before all the members of Oberoi family.
Shivaye himself eats the whole burnt paneer butter masala saving Anika from getting insulted.
Stay tuned for the upcoming twist.