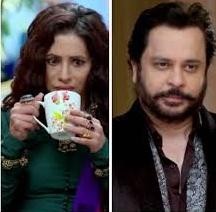 Ishqbaaz: Shwetlana makes master plan for separating Tej-Jhanvi from each other
The upcoming episode of Ishqbaaz will witness alot of twist and turns.
Tia has successfully made Shivaye and Anika sign the divorce papers and she is very happy.
Anika is trying to find the reason behind Shivaye's decision to get divorced as she knows that he never wanted to take divorce from her.
Shwetlana to ruin Tej-Jhanvi married life
On the other hand Shwetlana has returned to take revenge from Oberoi's.
So now she will creates problems amid Tej and Jhanvi.
Shwetlana makes evil plan for separating Tej and Jhanvi so that she can execute her evil plan to ruin Oberoi's.
It will be interesting to see that how will Jhanvi stop Shwetlana from ruining her married life.
Stay tuned for the upcoming twist.