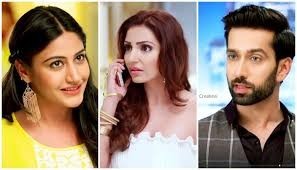 Ishqbaaz: Shivaye (Nakuul Mehta) throws Anika(Surbhi Chandna) in pool for refusing to apologize Tia
In the upcoming episode, Anika plays fugdi with Rudra so she was about to faint.
Anika falls while playing fugdi but Shivaye holds her and she falls in his arms.
Anika and Shivaye shares eye lock then all the members of the family enjoys with each other.
Tia's mother comes there and she gets irked seeing everyone happy and enjoying.
Anika falls in Shivaye's arms and they both share eye lock
She thinks to ruin their happiness, she tells Shivaye that Tia is not well and he is enjoying with his family.
So Shivaye gets shocked and asks what happened to Tia, she tells that Tia is suffering from eye infection because of Tia.
Shivaye gets shocked as well as angry, he asks ANika to apologize but she refuses so he throws her in pool.
Stay tuned for the upcoming twist.