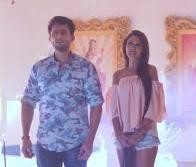 Ishqbaaz: Romi returns for ruining Rudra(Leenesh Mattoo)-Soumya's (Neha Laxmi) life
The upcoming episode of Ishqbaaz will witness alot of twist and turns.
Romi has returned back to make Rudra and Soumya's life hell.
Romi loved Rudra and she wanted to marry him.
But Rudra wanted to go away from Romi as he got to know that she is a psycho girl.
Soumya will save Rudra from Romi
Romi forced Rudra to stay with her but Soumya separated her from Rudra.
So now she has returned to take revenge from Soumya.
Romi will now make evil plan to marry Rudra so that she can separate Soumya and Rudra.
Then Romi will ruin Rudra's life for bitraying her.
It will be interesting to see that how will Soumya save Rudra from Romi.
Stay tuned for the upcoming twist.