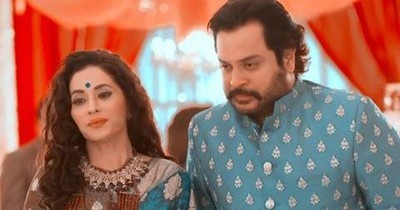 Ishqbaaz: Jhanvi (Snehal Pawar) feels that Shwetlana has entered with evil intentions against Tej(Mahesh Thakur)
The upcoming episodes of Ishqbaaz will witness alot of twist and turns.
Tej brings Shwetlana home because she got injured while saving him.
Tej gets really worried for Shwetlana and asks her to stay in Oberoi mansion until she gets fine.
Jhanvi gets shocked seeing Tej getting restless for Shwetlana.
Jhanvi irked seeing Tej's caring attitude towards Shwetlana
Tej's worry and caring attitude towards Shwetlana irks Jhanvi.
Jhanvi feels that there is something fishy, she has entered Oberoi mansion with some evil intention.
Jhanvi thinks that she will not let Shwetlana harm Tej or any other member of the family.
It will be interesting to see that what will Jhanvi do now.
Stay tuned for the upcoming twist.