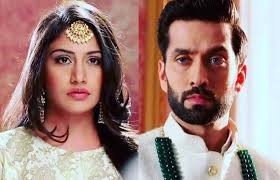 Ishqbaaz: Tia furious as Daadi throws her out from Shivaye's(Nakuul Mehta) room
In the upcoming episode, the show to witness high voltage drama as Shivaye gets call from kidnappers.
Kidnappers say that if he wants to save Tia then he will have to give them money.
So Shivaye goes with money to save Tia from kidnappers and bring her back to Oberoi mansion.
Later on Shivaye and Anika's reception, Tia also gets ready very nicely.
Shivaye introduces Tia as her wife before media and everyone gets shocked.
Daadi scolds Shivaye for introducing Tia as wife before media
Later Daadi scolds Shivaye and making fun of relation like marriage.
Tia goes to Shivaye's room on Shivaye and Anika's wedding night.
Daadi comes there and asks Tia to go out as she has no right to be in his room.
Daadi say that Anika is Shivaye's wife and she can only stay in his room.
Stay tuned for the upcoming twist.