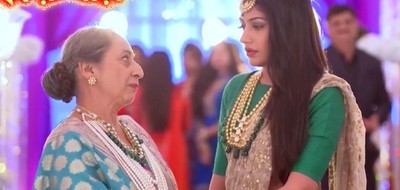 Ishqbaaz: Daadi returns home and gets shocked knowing about Tia's (Navina Bole) pregnancy drama
The upcoming episodes of Ishqbaaz will witness alot of twist and turns.
Tia pressuarizes Shivaye for marrying her with the help of media.
Shivaye gets really tensed and Anika does not likes seeing him in tension.
Anika confronts Tia and says that she will throw Tia out from Shivaye's life being her wife after exposing her.
Daadi does not believes in Tia's pregnancy drama
Daadi returns home and she gets shockes to know that Tia has got pregnant with Shivaye's baby.
Daadi thinks that Tia is lying and she is not a trustworthy person so she decides to support Anika.
Daadi goes to Anika and motivates her, Daadi says that she is with her and she must try her best to expose Tia.
Stay tuned for the upcoming twist.