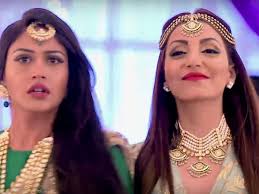 Ishqbaaz: Pinky stands against Anika (Surbhi Chandna) supporting Tia (Navina Bole) as Shivaay's wife
The upcoming episode of Ishqbaaz will show major drama and trouble for Anika all the more.
Anika who is stuck in marriage with Shivaay although she doesn't wanted it.
Shivaay is not ready to give divorce to Anika and forces her to sign divorce papers, Anika is also ready.
Anika leaves Oberoi mansion but Shivaay stops her from going and asks Anika to stay with him in Oberoi mansion.
Tia is irjed hearing this, Pinky is also unhappy with Shivaay's this decision.
Anika's new trouble facing Pinky
Pinky thus supports Tia in her mission to throw Anika out of Shivaay's life and Oberoi mansion.
Shivaay and Anika's increasing bond is disliked by Tia and Pinky, Anika will enter into new trouble.
Pinky's support for Tia will create new problems for Anika, as Tia and Pinky are both against her.
Stay tuned for more exciting updates of the upcoming episodes.