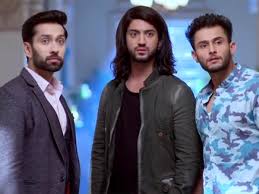 Ishqbaaz: Tia returns in dramatic way accusing Anika, Om (Kunal Jaisingh) against Tia (Navina Bole)
The upcoming episode of Ishqbaaz will show major drama post Shivaay and Anika's marriage where family accuses Anika for trapping Shivaay.
Anika is stuck in loss loss situation where she has nothing to say as Shivaay has forced her into this hell.
To add more to Anika's trouble, Tia returns back in dramatic way accusing Anika for her kidnapping.
Tia returns saying that Anika got her kidnapped to stop this marriage and take her place in Shivaay's life.
Shivaay and Anika's marriage to take new turn
Shivaay and family is shocked knowing this, Anika tries to tell everyone that she hadn't done anything like that.
Pinky, Tej all trusts Tia more than Anika and accuses her, Anika thus seeks Omkara-Rudra's help to prove her innocence.
Stay tuned for more exciting updates of the upcoming episodes.