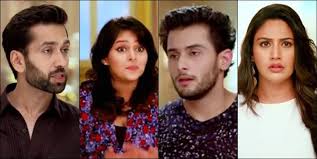 Ishqbaaz: Anika (Surbhi Chandna) and Saumya's dual trouble safeguarding Shivaay and Rudra (Leenesh Matto)
The upcoming episode of Ishqbaaz will show high voltage drama where Shivaay gets into Mrs Kapoor's trap.
Swetlana, Tia and Romi turns out to be Kapoor sisters working against Oberoi with revenge intentions.
Shivaay is thus trapped under Tia's pregnancy trap and Mrs Kapoor's Omkara's fake identity trap.
Shivaay and Rudra in Tia and Romi's trap
Shivaay is left with no options but to divorce Anika, there Romi is after Rudra and threatening her with psycho avatar.
Rudra is also getting into this trap, Anika and Saumya thus comes together to safeguard Rudra and Shivaay.
Stay tuned for more exciting updates of the upcoming episodes.