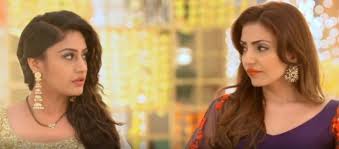 Ishqbaaz: Tia's (Navina Bole) vicious plan to kill Shivaay spoiled by Anika's (Surbhi Chandna) love
The upcoming episode of Ishqbaaz will show that Tia shows her true evil colors.
Tia who was troubling Shivaay to marry her is now getting furious as she is interested in her revenge.
Tia is more focused on taking her revenge from Shivaay and Oberoi family then getting Anika divorced.
Tia thus tries to play two games with one sword and plans to kill Shivaay giving pain to Anika.
Tia's killer plan for Shivaay
Tia adds acid in Shivaay's coffee as if he will drink the adulterated coffee he will die.
Shivaay was about to sip the coffee when Anika stops him finding something fishy.
Stay tuned for more exciting updates of the upcoming episodes.