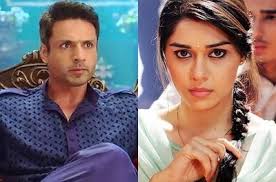 Ek Tha Raja Ek Thi Rani: Rani (Eisha Singh) and Iqbal's open war against Raja (Sartaj Gill)
The upcoming episode of Ek Tha Raja Ek Thi Rani will show high voltage drama where Rani finds Iqbal's truth.
Iqbal has entered their life with revenge intentions and to kill Raja taking his older revenge.
Iqbal believes that Raja is responsible for death of his lasy live Zaira as Raja had killed her in an accident.
Iqbal and Nusrat are back to take Zaira's death revenge, Rani thus throws open challenge before Iqbal.
Rani and Iqbal's open challenge
Rani challenges Iqbal that she will save her love of life Raja from his evil trap and prove h innocence.
Iqbal gets tashan to Rani and asks her to do what she feels like to save Raja.
Stay tuned for more exciting updates of the upcoming episodes.