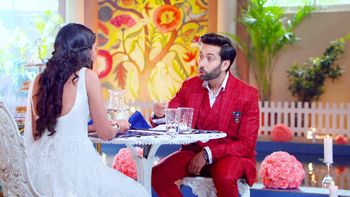 Ishqbaaz: Daadi wants to bring Shivaye(Nakuul Mehta)-Anika (Surbhi Chanda) close to each other
The upcoming episodes of Ishqbaaz will show that Daadi will try to bring Sivaye and Anika close to each other.
Shivaye has already gifted divorce papers to Anika.
Shivaye has stopped Anika in Oberoi mansion as he has sold her house.
Tia gets very happy seeing all this but she does not likes one thing, she does not want Anika to stay in Oberoi mansion
Daadi does not wants Anika-Shivaye to get separated
Daadi likes Anika and she thinks that Anika-Shivaye are made for each other.
So she does not wants them to get separated at any cost.
Daadi seeks Rudra and Om's help for bringing Shivaye-Anika close to each other.
Daadi want to make them realize that they both love each other so she plans dinner date for Anika and Shivaye.
Well...it doesn't end here...
Tia's evil plan for spoiling Shivaye-Anika dinner date
When Tia comesto know about it then she gets angry as well as jealous.
Tia thinks that she will have to do somwthing to spoil their dinner date as she cannot let Shivay and Anika come close to each other.