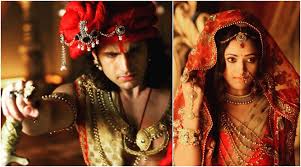 Chandra Nandni: Chandra (Rajat Tokas) furious at Nandini, accuses her for Durdhara's (Saanvi Talwar) miscarriage
The upcoming episode of Star Plus show Chandra Nandni will show that Chandra is on cloud nine with Durdhara's pregnancy news.
Chandra announces celebration in the empire all are happy, Nandini is also happy and congratulates Durdhara.
While their happiness doesn't remain for long as someone attacks Durdhara thus killing her child.
Chandra's accusations over Nandini
Chandra is all shattered getting this news and bursts out in anger over killing his child.
Chandra doubt's Nandini as they share bitter relationship and Nandini has never thought good for him.
Chandra accuses Nandini for Durdhara's miscarriage and for killing his first child.
Stay tuned for more exciting updates of the upcoming episodes.