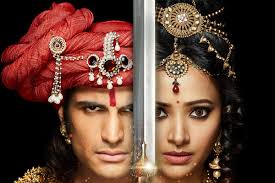 Chandra Nandni: Nandini's (Shewta Basu Prasad) insecurities for Chandra (Rajat Tokas) depicts get love
The upcoming episode of Chandra Nandni will show high voltage drama where Malayketu and Chaya are married.
Chandra gets his sister Chaya married to Malayketu while Nandini was always against it.
Nandini was well aware that Malayketu isn't good man and has hidden intentions to marry Chaya.
Malayketu has intentions to rule over Magadh and get Nandini from Chandra, while Nandini is against him.
Nandini and Chandra's developing closeness
Nandini warns Chandra against Malayketu's intentions and asks him to remain alert.
Chandra thus asks Nandini if she is in love with him and showcasing so much concern for him.
Stay tuned for more exciting updates of the upcoming episodes.