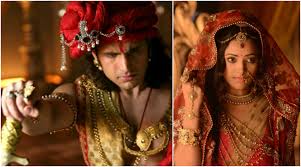 Chandra Nandni: Chandra (Rajat Tokas) and Nandini's (Shewta Basu Prasad) increasing closeness to end enmity
The upcoming episode of Chandra Nandni will show that Nandini and Chandra's bitter marriage is taking new turns.
Chandra and Nandini has no love feelings amid them while they have hatred and revenge motive.
Chandra and Nandini's thus hatred saga is soon turning into a love story with developing feelings for each other.
Chandra has saved Nandini from many troubles and has always stood by her in any situation.
Chandra and Nandini's love saga begins
Nandini also realizes it but hides her feelings as she wants just revenge for her father and brother's death.
Let's wait and watch for the upcoming love amid hatred drama in Star Plus Chandra Nandni.
Stay tuned for more exciting updates of the upcoming episodes.